Eugene Healan Thomason (
1895

 – 

1972

)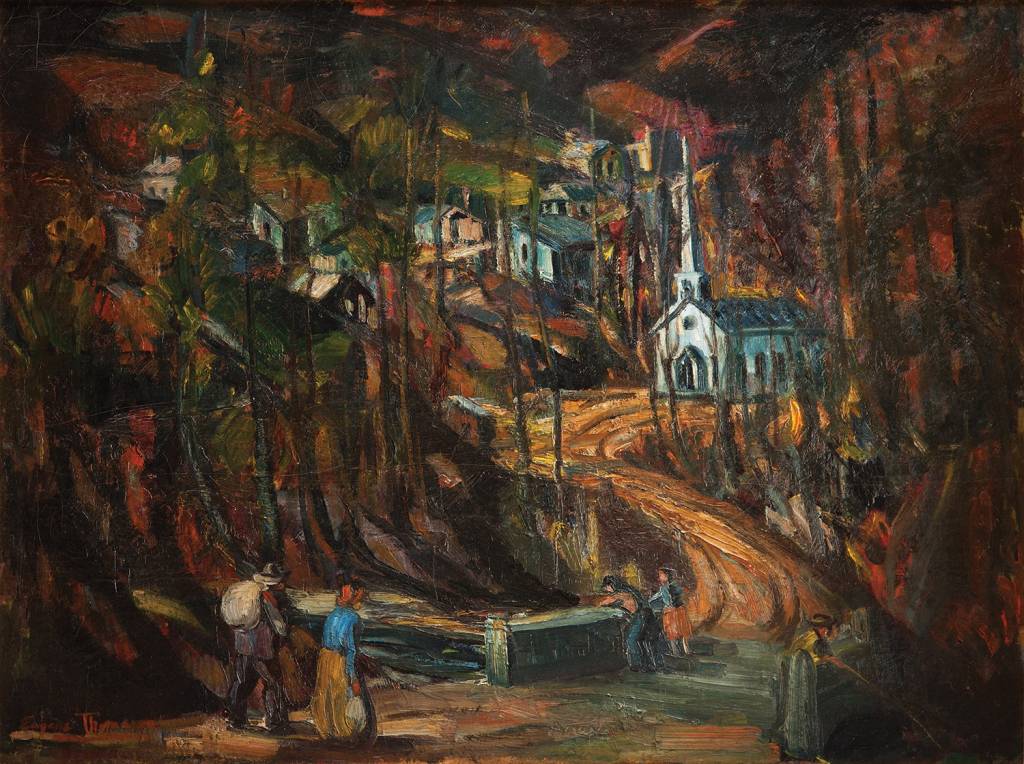 Eugene Healan Thomason aspired to become an artist at an early age. His father was skeptical about this career path and, at first, tried to steer him in other directions. Thomason attended Davidson College, but left after a year. He then held a few different jobs before enlisting in the Navy toward the end of WWI. At 24, he returned to Charlotte, still articulating his aspiration to become an artist, and his father arranged a meeting for his son with James B. Duke early in 1921. Rather than advising him to change course, Mr. Duke was so impressed with Eugene's artistic talent that he provided financial support for his academic training beginning that year and continuing until Mr.Duke's death in 1925.
Thomason enrolled at the Art Students League in New York City in June 1921 and stayed for four years. His time there had a strong and enduring influence on Thomason, reflected both in his style of painting — with his heavy brushwork and boldly, rapidly applied paint — and in the subjects he would depict.
Thomason eventually returned to Charlotte, setting up a studio on West Sixth Street and later on West Trade Street. He was an active participant in the local art community and one of the first to have a one-man exhibition at the Mint Museum shortly after it opened in 1936. He earned income from portrait commissions, although he preferred to paint subjects of his own choosing, particularly scenes of ordinary life in North Carolina.
Following his marriage, Thomason relocated to Nebo, N.C., at the foot of the Appalachian Mountains near Lake James. Thomason had known this area since the mid-1920s when his father purchased land and a cabin there from Mr. Duke, who had developed Lake James as part of his hydroelectric work on the Catawba River. Not far away, Thomason discovered a particular aspect of the North Carolina scene for which he would become well known for: the Appalachian Mountains and its people.
Dubbed the ​"Ashcan Artist of Appalachia," Thomason painted as a rural realist, exploring everyday life. His subjects — depicted with great sympathy — were Appalachian people engaged in their daily activities, set against the backdrop of the beautiful North Carolina mountains.
Mountain Church is one of Thomason's more narrative treatments of this subject. In the foreground, a man carrying a sack over his shoulder walks with a woman along a path toward three figures fishing off a bridge along a steep, winding, heavily-rutted dirt road, leading to the rural white church further up the hill and a mountain village beyond.
Thomason's portrayal of the Appalachian scenery is informed by a quiet dignity that calls to mind The Duke Endowment's involvement with congregational outreach programs at rural Methodist churches in Avery and McDowell counties.
The Thomason family's special connection to Mr. Duke came through the Piedmont & Northern Railway and the Durham & Southern Railway. Both of these enterprises were developed by Mr. Duke to connect the mills and towns that received energy from the hydroelectric power plants his company had built along the Catawba River. Eugene Thomason's father was president of the railway companies.