Full Report: A Rigorous Evaluation of Family Finding in North Carolina
Assessing the impact of locating relatives of children in foster care.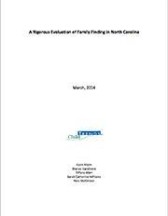 MHealth Medication and Blood Pressure Self-Management Program in Hispanic Hypertensives: A Proof of Concept Trial
Evaluating use of smartphones to encourage medication adherence for high blood pressure.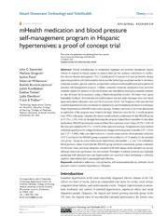 Aging in Place in the Carolinas
This white paper develops a demographic profile of the elderly population in the Carolinas and presents the results of a literature search which identified both promising initiatives and programmatic gaps where new and innovative efforts are needed to foster and facilitate successful aging in place for seniors.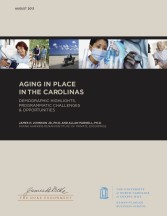 Randomized Controlled Trial of Universal Postnatal Nurse Home Visiting: Impact on Emergency Care
Studying the effectiveness of a program to reduce infant emergency medical care between birth and age 12 months.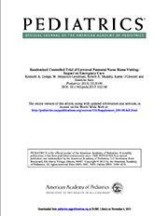 Evaluation of The Duke Endowment Campus Sustainability Initiative
This evaluation was commissioned as a way for the Endowment to catalog the achievements of the Campus Sustainability Initiative, including measurable outcomes and qualitative results and impacts.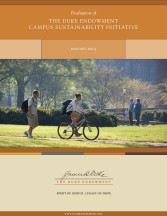 Building the Child Wellbeing Project: Practitioners' Perspectives on the Role of Implementation Science in Strengthening Post-Care Child Welfare Services
This is the third brief in a series: Building a Post-Care Service System in Child Welfare: Lessons Learned from the Frontlines of Implementation Science in Catawba County.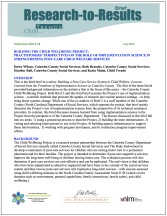 Using Implementation Science to Support and Align Practice and System Change: A Case Study of the Catawba County Child Wellbeing Project
This brief describes how implementation science principles informed technical assistance strategies used in Catawba County to support the full and effective use of evidence-based and evidence-informed practices (EBPs/​EIPs).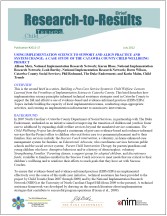 Implementing a Post-Care Service System in Child Welfare: The Catawba County Child Wellbeing Project
This brief sets the stage for a three-part series on the Catawba County Child Wellbeing Project by describing the Project's origins and historical context.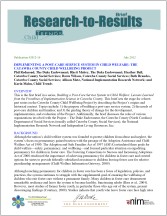 Are Rural Clergy Worse Off? An Examination of Occupational Conditions and Pastoral Experiences
This study uses recent data from United Methodist Church clergy in North Carolina to test extant depictions of rural ministry, which typically portray rural churches as challenging occupational settings.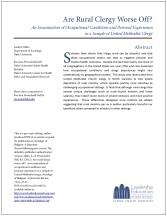 High Rates of Obesity and Chronic Disease Among United Methodist Clergy
Ninety-five percent of all actively-serving United Methodist clergy in North Carolina (NC) completed self-report height and weight items and diagnosis questions from the Behavioral Risk Factor Surveillance Survey (BRFSS).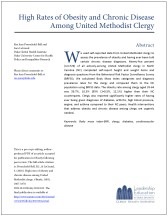 Indenture of Trust
Governed by a board of trustees, Endowment staff conduct grantmaking according to guidelines in Mr. Duke's original Indenture of Trust (pdf), a legal document that remains relevant and timely after nearly 100 years.