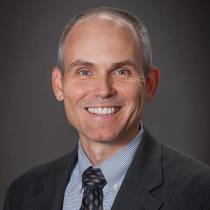 On a late Saturday afternoon in 1964 in a small North Carolina town, a teenager gave birth to a son. A recent high school graduate, she had dreams of a career that would take her away from rural North Carolina. Instead, she now had a baby, a husband not much older than she and no idea of the challenges ahead. All her hopes and love were poured into her son.

But hopes and dreams don't pay for diapers or help you make rent. They don't tell you how to get him to eat, sleep or stop crying. Love doesn't come with a PDF describing developmental milestones, appropriate discipline and parenting tips.
Despite the challenges, her son graduated college, became a lawyer and eventually a foundation program officer — me. Why didn't adversity stop me? Why this outcome? Why wasn't I neglected?
A big part of the answer lies in two words — family support. I had two sets of grandparents, aunts, uncles, and other adults who thought of me as family. They visited my mom, provided childcare when needed, answered her questions about crying, feeding, napping, and the myriad other unknowns that come with a newborn. There were weekly Sunday afternoon visits with my maternal grandparents, aunts, uncles and cousins. My paternal grandparents lived next door and provided childcare and eventually after-school care, took me to church every time the doors opened, gave me some ​"walking around money" on occasion and an unending supply of encouragement.
Family support made the difference. My young parents had a support network that made sure I was protected, nurtured, and grew up in a supportive environment.
For many young parents, that kind of family support is uncommon or unavailable. No role model or significant adult helps them navigate the challenges of caring for a child. I believe parents want to support their children, they want their children to succeed, to do better and be better. But they need help. Where do parents go if family support is not available?
In North Carolina and South Carolina, we have evidence-based parenting programs like the Incredible Years, Strengthening Families, Triple P, and home visiting programs such as Nurse-Family Partnership, Family Connects, Teachers as Parents and Healthy Steps. These programs encourage parents to ask for help and build their parenting skills, competencies and confidence so that their children are safe, ready to learn and in good health. Led by Prevent Child Abuse North Carolina, the North Carolina Partnership for Children, N.C. DSS, Children's Trust of S.C., S.C. DSS, S.C. First Steps, local non-profits, churches and others, we see parenting and family support programs across the Carolinas. But we need more.
According to the National Home Visiting Resource Center's 2020 data, 710,900 children in North Carolina could benefit from home visiting, but current programs serve less than 2 percent of children in the state. In South Carolina, more than 334,000 children could benefit, but a similarly small percentage are served.
According to a landscape analysis by the Jordan Institute for Families, many communities have no home visiting programs at all, and 72 percent of existing programs have a waiting list for services.
These programs are good investments for our communities. For instance, as much as $1.37 is saved for every $1 invested in the Nurse-Family Partnership program, according to 2019 data. These programs save money on expensive social problems such as child abuse, poor academic performance, unemployment, poverty and crime.
Just as my extended family helped me succeed, these programs can offer critical support for children who can't get what they need from family alone.
February is Family Support Awareness Month. Learn more about family support programs by visiting the websites of agencies such as Prevent Child Abuse North Carolina. Offer your support and join us in thanking them for their work fighting to protect children in the Carolinas from child abuse and neglect.